As a critical member of a company's sales and marketing teams, a graphics designer must harness the power of visual concepts to stimulate an emotional response among consumers. Graphic designers not only need to be masters of art and technology, but more importantly they must have a knack for communication as well.
Candidate is applying for a Senior Designer position
Candidate has … years of experience creating marketing materials for advertising agencies
Candidate emphasizes their ability to manage a team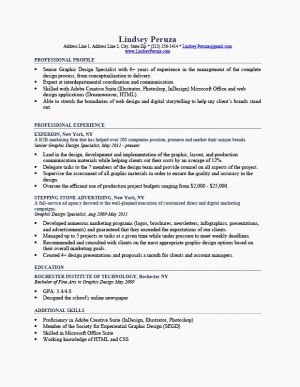 As a whole, the job outlook for this field is below the average growth of all occupations. This is due to the fact that industry is in a transition phase. The print sector of the graphic design field is projected to see a 16% decline in job growth by 2022. On the other hand, positions in the digital sector are expected to grow by 35% in the same period.
Digital design is a broad discipline that has become ultra competitive due to more employers turning to freelancers from all around the world as a cheaper alternative to complete their projects. This has made it more difficult to for those in the field to find steady work, as well as increasing competition for highly coveted in-house positions.
So whether you are trying to obtain freelance projects or find a steady position with a large company, it's clear that you need to attract the attention of clients and employers. The first step is to craft a graphic design resume that addresses the specific project or position.