Pet Sitters supervise cats, dogs, and other pets while their owners are away. Key responsibilities include providing food and water, grooming, taking pets to vet appointments, administering medicine, taking dogs out for a walk, and providing companionship. Well-written resume samples mention qualifications like the ability to work with animals, basic training knowledge, communication, and love of animals. Based on our collection of resume examples, no academic education is required for this position. Most candidates hold a high school diploma or the equivalent.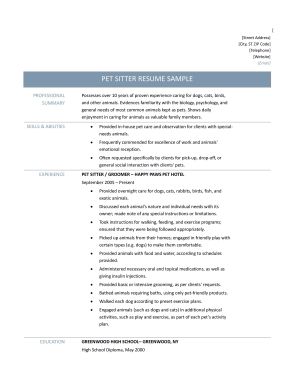 EXAMPLE SUMMARY
Compassionate and responsible pet sitter with hands-on experience in handling a variety of pet care services including walking, overnight pet care, pet taxi and medication administration. Proven ability to manage a wide range of pets including dogs, cats, parrots, turtles, and fish.
Actively perform grooming duties such as bathing, combing and nails clipping. Competent and committed, ability to ensure that pets are given their food and water according to specified schedules. Ability to dispense and administer medication to assigned pets, along with a great ability to keep a constant check on their health.
PROFESSIONAL SKILLS
Pet Grooming
Medication Administration
Playtime Management
Exercise Programs
Feeding Assistance
Behavior Management
Disease Control
Pet Training
Overnight Companionship
Bathing and Cleaning
Emergency Handling
Distress Handling